Yttria-stabilized zirconia (YSZ) has been used in a variety of areas such as a fuel cell and a oxygen sensor due to its outstanding ionic conductivity and superior chemical stability.
Yttria(Y2O3) brings oxygen ion vacancies into zirconia to increase conductivity of oxygen ions.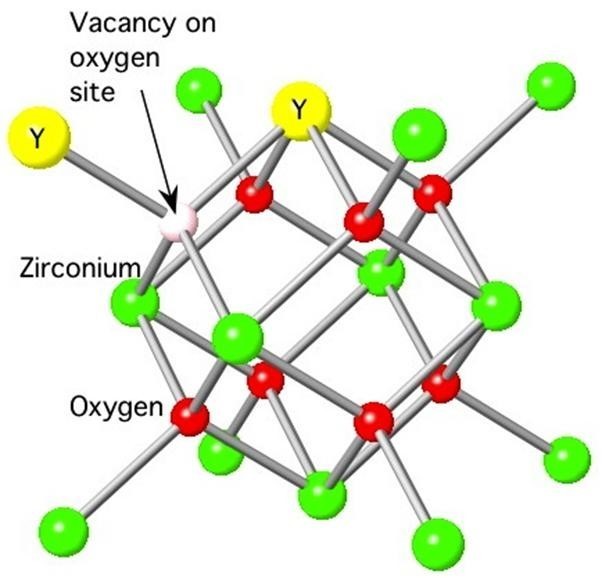 (Illustrated in Figure 1) YSZ- Unit cell structure ( J. Phys.: Condens. Matter 25, 2013, 395001)
Our company produces oxygen gas sensors mainly using 8mol% yttria-stabilized zirconia (YSZ), which is one of the best compositions for an oxygen ionic conductor.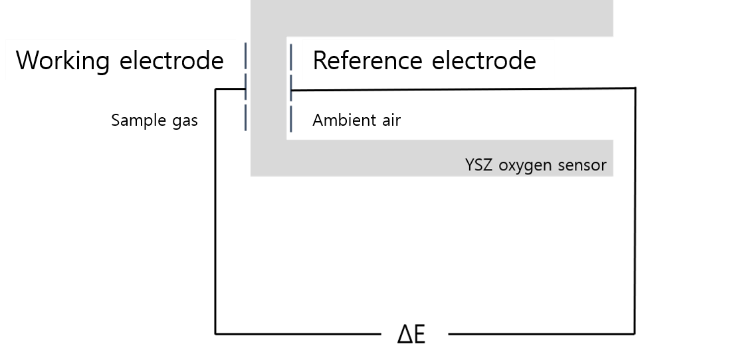 (illustrated in Figure 2) Structure of Zirconian Oxygen Sensors Using YSZ
As illustrated in Figure 2, a zirconia oxygen sensor has a structure with a reference electrode and a working electrode isolated from each other.
The reference electrode is exposed to the ambient atmosphere that always has an oxygen partial pressure of 21%. The sampling gas to be measured flows onto the working electrode.
Oxygen molecules in a gaseous state are absorbed and fill in oxygen ion vacancies on the surface of the YSZ to disspate electrons by the following reaction: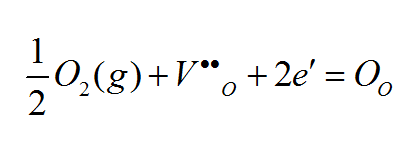 At a fixed temperature, the concentration of each electrochemical species can be expressed as the following formula by the mass action raw

The concentration of the oxygen ion vacancy is decided by the doping concentration of Yttria, therefore the concentration of electrons is proportional to the oxygen partial pressure.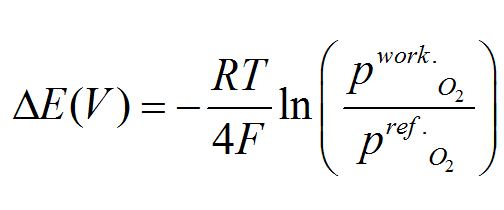 Hence, the difference in oxygen partial pressures between the reference electrode and the working electrode results in an electrical potential difference between the two electrodes on the YSZ.
The potential difference between the two electrodes is defined by the Nernst equation
The oxygen partial pressure in the reference electrode is always 21%.
Measuring the potential difference between the two electrodes allows the calculation of the oxygen partial pressure in the sample gas.
A zirconia oxygen sensor can be widely used in various applications, because it works very stably under various gas conditions due to its excellent chemical and corrosion resistance, and it can measure oxygen partial pressures in any practical ranges that common industrial fields deal with.